Fantasy has pretty much always been my favourite kind of fiction, not just because of the amazing magical worlds you can be transported to with every story, but also because it's in fantasy fiction where you'll often find some of literature's most fabulous, bad-ass, and inspirational heroines.
I wanted to share just a few of my top strong female fantasy figures with you (although there are LOADS more out there – like I said, that's something about this genre that I absolutely adore) – but these are an eclectic bunch that have stood out to me or I particularly enjoyed over my years of reading.
Yelena Zaltana – Poison Study, by Maria V. Snyder
Yelena has been through a LOT by the time we first meet her. Charged with murder, she is bound for the gallows – until she's given a choice. Be executed, or become the Commander's food taster. Despite the risks the role of food taster brings (the risk of assassination, and the necessity to learn the taste of all known poisons, for a start) it's a much more attractive option than certain death, so of course our girl Yelena chooses to go for it – what has she got to lose? She is fierce, feisty, smart, and really fun to read. This story has a great romance at its heart, but it's the strength of our female protagonist that will have you cheering her on 'til the end.
Alyce – Malice, by Heather Walter
This Sapphic retelling of the classic Sleeping Beauty fairy tale centres on the villain of the classic tale as our main protagonist. Alyce is alone, forced to provide hexes and curses for the rich people of Briar who can pay for them, at the same time mocked and vilified for her gifts as The Dark Grace. Until she meets Princess Aurora, who accepts her, exactly as she is. Alyce is interesting because she explores the morally-grey side of a darker leading lady, and personally I enjoy these kinds of characters because they personify the experiences of many who have been oppressed, told to keep their gifts hidden and not to speak their truth. Alyce gives us insight into what happens when society pushes us to defy the truth of who we are, and shows no compassion or understanding towards those who struggle – and the risks we run in creating villains when we treat people this way.
Thursday Next – The Eyre Affair (and other titles in the Thursday next series), by Jasper Fforde
Although these books are a little older, I really enjoyed reading about Thursday in this series of fantasy-comedy adventures; firstly because the stories all centre around books, literary crimes, and being able to jump into the worlds inside of stories – I mean, which reader hasn't even wondered what that would be like? But also because Thursday is in her 30s when the series begins, she's a bit older than a lot of female protagonists and she is super smart, brave, a bit of a dare-devil and incredibly fun to read. In fact the description for the Eyre Affair introduces Thursday with this:
Meet Thursday Next, literary detective without equal, fear or boyfriend.
which is just the perfect summary of this quick-witted and fearless protagonist. These stories are creative, funny, and a joy to read – for me, even more so because of the strong female protagonist at their heart.
Vasilisa Petrovna – The Bear and the Nightingale, by Katherine Arden.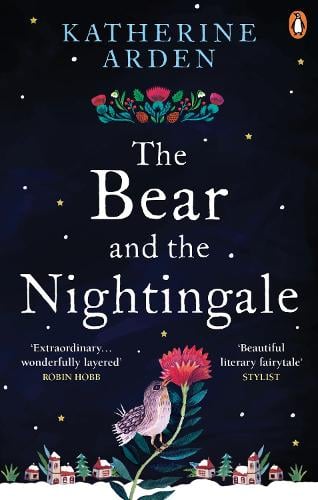 This book is interesting because it uses classic Russian folk lore as it's inspiration, and our main character, Vasilisa, who not only has the cool gift of being able to communicate with mythological creatures, is smart, adventurous, wild, and defiant, which is exactly how I like my female protagonists. Vasya lives in a cold and dark world which draws its imagery from elements of the classic Russian tales which inspired its story, but her strength and iron will are what give her the strength to carry this fable and keep us hooked to the very end.
James Juniper Eastwood – The Once and Future Witches, by Alix E Harrow
I saved this one to the end because this is one of my all-time favourite reads, I cannot emphasise enough how much I adore it. As a book which centres on three sisters, witches in an alternative version of America where witchcraft has been burned away and any remaining witches are to be feared, reviled, and cast out of society – all three sisters (James Juniper, Agnes Amaranth, and Beatrice Belladonna) could be called strong female protagonists in their own way. But it's James Juniper, June, who I think grows and develops the most throughout the arc of the story. This one is so detailed and rich, it's hard to know which elements to pick out in a short summary for you – but June and her sisters' fight for the right to vote, to be witches, to BE as women, is so empowering and inspiring, I honestly think if you enjoy strong female protagonists and beautiful, magical prose, you will love it as much as I did.
Thalia Harris – Call of the Siren, Scarlett Evans
I couldn't finish this post without making a quick mention of my female protagonist. Perhaps she doesn't start out as super strong – she's sassy and a little feisty, sure, but she's also a bit lost, not really knowing where she wants to go in life and afraid to really put herself out there. But through the story she learns to find her courage and the strength that is hiding deep within – after all, every story has to leave it's character's changed just a little, don't you think?
If you want to read more about Thalia, you can check out the first chapter for free right here.
Call of the Siren is out now, and you can grab a copy totally FREE on Kindle Unlimited, right here.